CimcoEdit 7 - Build 7.00.26
---
Download:

Microsoft .Net Framework 4.0 before installing CimcoEdit.

---
Install:

The installation is pretty straight forward:
Select "U.S. English", OK,
Next,
I Agree, Next,
Next,
Yes, Next,
STOP
You need to install the top four components, but not the bottom three.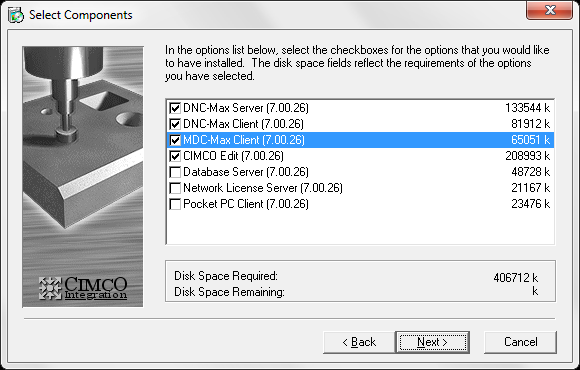 Next,
Next,
Next,
Install will take a few minutes. The installer window will dissapear and some Microsoft C++ Packages may install. Wait until everything is done and you see the "Installation Complete" window.
Click Finish.

---
Software Crack:

We must patch (aka crack) the software so it thinks you paid for it. This is a little more complicated:
Open up the CimcoEdit Crack (crack.zip). Double-click on CimcoPatcher.exe
Click "Do It"
There are eight .exe files (executables) that need to be patched. You will have to select them one at a time, pressing "Do It" each time inbetween.

C:\CIMCO\CIMCOEdit7\CimcoDNC.exe
C:\CIMCO\CIMCOEdit7\CIMCOEdit.exe

C:\CIMCO\DNCMax7\DNCAdmin.exe
C:\CIMCO\DNCMax7\DNCMax.exe
C:\CIMCO\DNCMax7\DNCMaxCtrl.exe
C:\CIMCO\DNCMax7\DNCMaxServiceManager.exe

C:\CIMCO\MDCMax7\MDCMax.exe
C:\CIMCO\MDCMax7\MDCMaxCMD.exe

If you recieve a "Cannot find magic patterns in file" error, it simply means you selected the wrong file, or the file has already been patched.

Once all executables are patched, close CimcoPatcher, you're done!

You may delete CIMCO_70026.exe and crack.zip if you don't plan on reinstalling.

---
Uninstall:

Don't do this until you are done with CimCoEdit forever and want it gone!
To uninstall, goto Control Panel, select "Programs and Features" ("Add or Remove Programs and Features", on older machines) and select "CIMCO Software V7". Then click uninstall.

---
Watch in HD!

Skip to 1:45 if you're hurtin' for time.